Intervista Andrea Baggio
"I became the first expat in CAREL's history. This was when working abroad was not yet as common as it is today, especially in a country where I didn't even know a word in the local language. "
When did the idea to open a branch in Germany arise? What were the main milestones?
In the 1980s, German company Barbey Klimatechnik GmbH was CAREL's exclusive agent and distributor for humidifiers, while Christof Fischer GmbH (Fischer KälteKlima) was (and still is) our distributor for parametric controllers in the refrigeration market.

The first CAREL programmable electronic controllers had not yet made an impact in Germany at the time and, in general, their architecture was starting to fall behind market requirements.
In the early 1990s, CAREL started marketing its innovative pCO line (acronym for "programmable controller"; I was the product manager and sales promoter for this new range, above all for our export markets) and following the initial excellent results in other countries, CAREL decided to invest in introducing programmable controllers in Germany, first of all mainly for air conditioning applications, given the significant market potential in relation to OEMs in the area and so as to intensify its sales activities for other products.
In 1992, CAREL signed an agreement with Dieter and Jutta Barbey, owners of Barbey Klimatechnik GmbH, to set up a company, initially owned by the Barbeys, called Barbey Regeltechnik GmbH. The main objectives were to analyse the German market in more detail, intensify and focus sales actions mainly on programmable controllers, and use the name Barbey - already known locally as agent-distributor for CAREL humidifiers - as a facilitator and to support the small number of OEM customers more closely. This agreement allowed for CAREL, based on the initial results obtained, to subsequently take a stake in the company and directly manage the sales and marketing aspects, obviously also covering the other product ranges.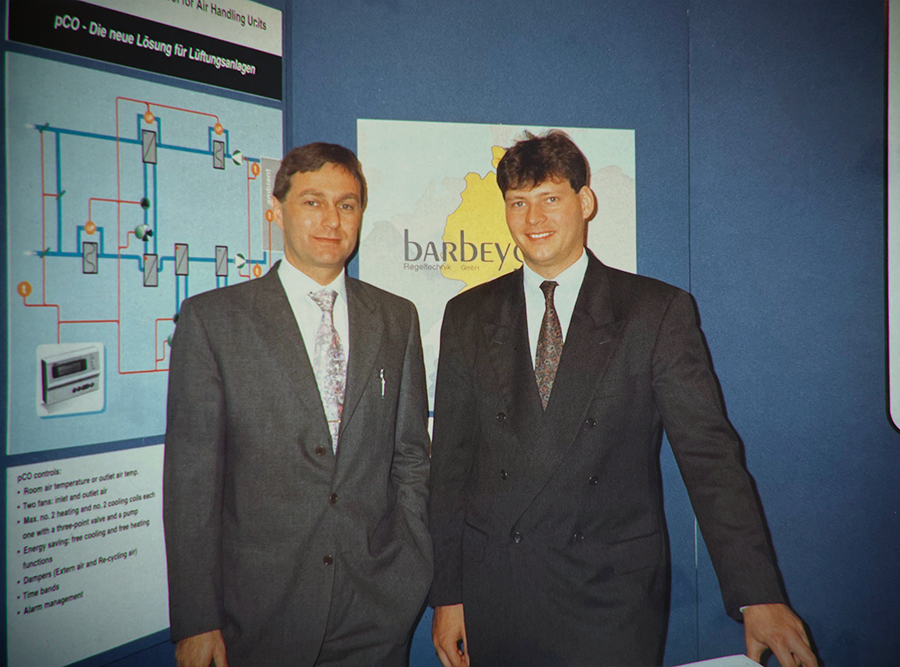 The Barbeys, with CAREL's support, then hired a young engineer, Frank Lauer (Managing Director of CAREL Deutschland for many years now) as a sales representative and initially also as an EasyTools programmer (the first and at the time the only dedicated graphics development environment for HVAC applications). The company shared its offices with Barbey Klimatechnik, located at the Barbeys' home in Kefenrod, about sixty kilometres north-east of Frankfurt.
As I mentioned before, since 1990 I was Product Manager for the systems product line, which included programmable controllers, local networks and the first "boss" supervisor. I therefore dealt with the promotion and sales of the pCO and associated systems, mainly in Europe and the United States, however with specific focus on Germany, supporting Barbey Regeltechnik locally and from Italy. Back then, the role of Product Manager was a sort of "jack of all trades" (there were just a few of us at CAREL), who worked in marketing, but who also had important sales support responsibilities.
At the beginning of 1996, given the initial positive results and that the expected business potential had been achieved, CAREL decided to take up its option of entering into a partnership with Barbey Regeltechnik. Messrs. Rossi Luciani and Galvani (CAREL President and Chief Executive Officer) then met with the Barbeys to agree on the details.
CAREL decided to have direct management and control within the company as a whole and specifically regarding sales, and I was offered the chance to join the new German business with managerial and sales responsibilities, as well as liaising with Management and the various departments at headquarters in Italy.
When was CAREL Deutschland founded?
On Friday 13 September 1996, Dieter Barbey, Luigi Rossi Luciani, Giancarlo Galvani and I went to a notary public in Büdingen, to sign the papers to register the new company Barbey-CAREL Regeltechnik GmbH and designate the proxies. Initially CAREL and the Barbeys each had a 50% stake in the company, yet it was already officially a CAREL subsidiary.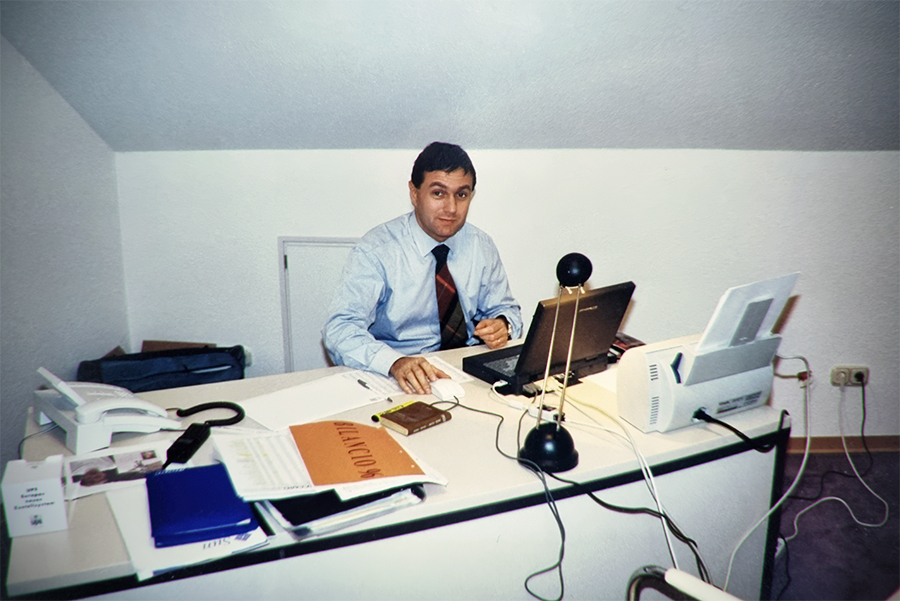 That same day, I became the first expat in CAREL's history. This was when working abroad was not yet as common as it is today, especially in a country where I didn't even know a word in the local language.
In the beginning, in addition to myself, the new company employed three members of the Barbey family, Frank Lauer, at the time area sales manager, and Heinrich Fluch, a programmer.
We also opened new headquarters in Kefenrod.
So in 1996, I started working full time in Germany, and stayed there for around seven years, firstly as the legal representative and then as Managing Director and Board member, positions I retained until 2018. The introduction of CAREL's programmable products was hard work in the beginning, considering the quite conservative nature of the local market and culture, and the fact that we needed to compete with large, well-established competitors.
"It has been exciting for me to tell this story. [...] It has reminded me of the many people [...] each making a fundamental contribution to the growth and development of this wonderful organisation."
How did CAREL Deutschland evolve in the early years?
Shortly after it was founded, the branch changed its name from Barbey-CAREL Regeltechnik to CAREL Deutschland GmbH, with CAREL taking full control. I was appointed as Managing Director and Frank Lauer as sales manager. The Barbey family remained active in an important support and consultancy role, essentially managing administration and accounting.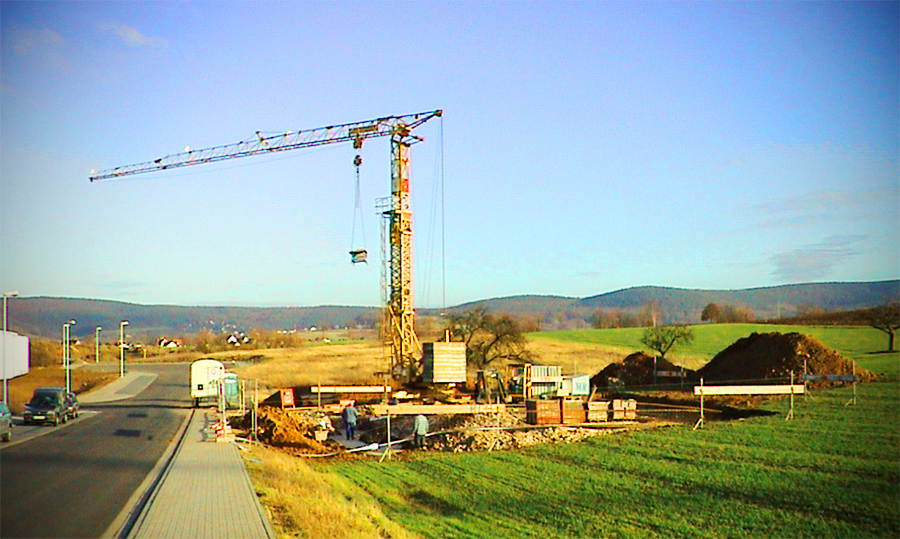 Barbey Klimatechnik continued as exclusive distributors for CAREL humidifiers, in synergy with CAREL Deutschland, while Christof Fischer successfully continued its operations as exclusive distributors of CAREL parametric controllers for refrigeration.
Local sales activities were reorganised and intensified, and the first positive results began to be seen in a very conservative market, as already mentioned. Moreover, important OEM customers were acquired in the HVAC business: by having a direct presence on the market with a company based in Germany, with qualified German personnel, and a representative of the parent company as Managing Director who was able to make business decisions directly and quickly - always liaising with headquarters in Italy, above all with the then sales director Maurizio Manenti - was one of our trump cards and helped accelerate the company's growth. With growing business and market opportunities, the branch was bolstered with new hires, in the sales, after-sales and software development areas.
One significant step that took the subsidiary to an even higher level was taken in 1998 when for the first time - even at a Group level - we entered the heat pump market, mainly residential, with Germany at the time being at the forefront in Europe. The relatively low cost of electricity compared to other energy sources made these appliances very competitive and cost-effective in Germany.
The continuous hard work of the branch in this business led to the signing of a contract with an important manufacturer of these appliances, currently still one of the CAREL Group's leading customers, supplying the pCO solution, programmed directly by CAREL Deutschland to customer specifications and thus creating the first complex CAREL application software in this market segment.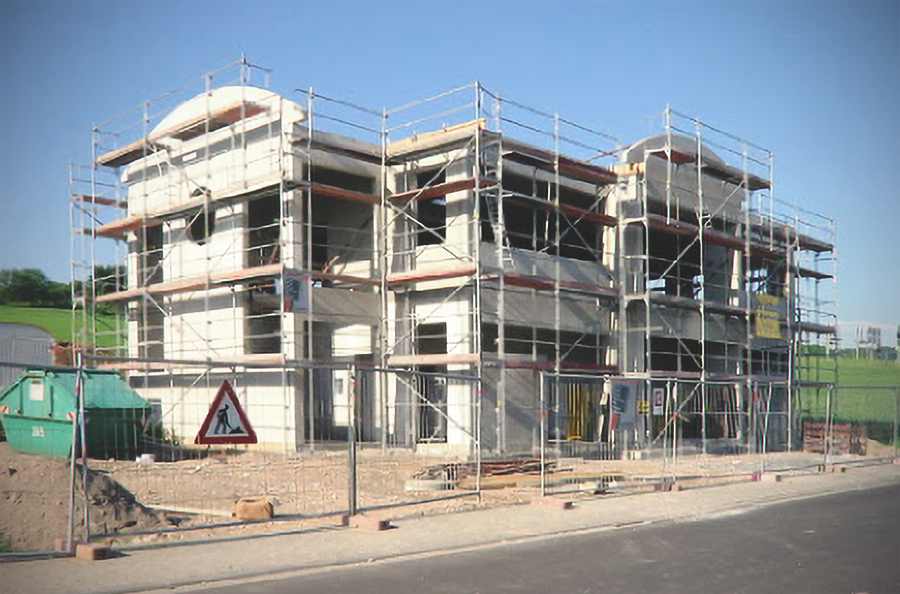 In refrigeration, where CAREL Deutschland operated directly with the larger OEMs, we started supplying the branch's first important OEM customer, one of the foremost Groups in the area and in Europe, with a custom version of the ir32.
The following year, we established important contacts with a large company that intended to enter an HVAC market niche for the first time and that was looking to procure an electronic control solution from an established, dynamic, and expert company in the sector. The unique features of the specifications and the substantial business involved made CAREL decide to develop a fully-customised controller, which has continued to be supplied until the present day. This company has since remained one of the CAREL Group's largest customers in terms of sales.
Sales from the distribution of parametric controllers for refrigeration also increased, thanks to the valuable and qualified work by Fischer KälteKlima, and CAREL Deutschland continued to grow, acquiring other important OEM customers in the HVAC sector.
This continuous expansion in terms of number of customers and market share led the branch to hire other valuable staff members, in sales, software programming and local after-sales.
Faced with this constant growth and the potential offered by the local market, CAREL decided to build new headquarters in Gelnhausen, in a more suitable area in terms of representation and logistics, and better suited to the size of the business and its future needs.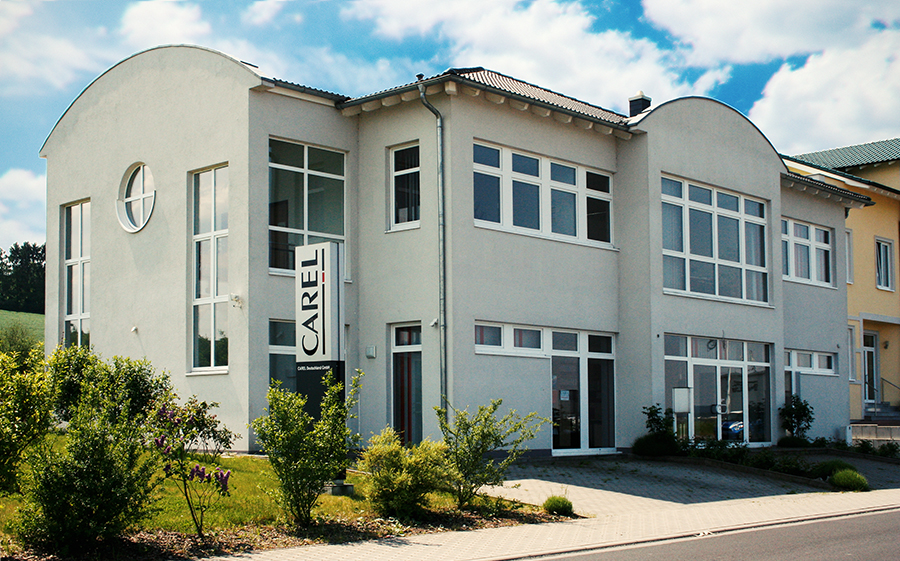 The new building in Gelnhausen was inaugurated in 2002 and is still the branch's headquarters. Since then its business has continued to grow significantly, with extensions added to the site the following decade, until reaching its current layout. In the early 2000s I returned to headquarters in Italy, and Frank Lauer replaced me as the company's Managing Director, bringing CAREL Deutschland to the very high level it holds today and contributing to making CAREL Deutschland one of the CAREL Group's leading subsidiaries in terms of revenues.
It has been exciting for me to tell this story, especially on this very important anniversary. It has reminded me of the many people who have worked diligently for the branch and therefore for CAREL as a whole, each making a fundamental contribution to the growth and development of this wonderful organisation: indeed, as there have been so many, I unfortunately have not been able to mention them all.
Intervista Andrea Baggio - Script Non Cancellare