pChrono
PCH550*31UB00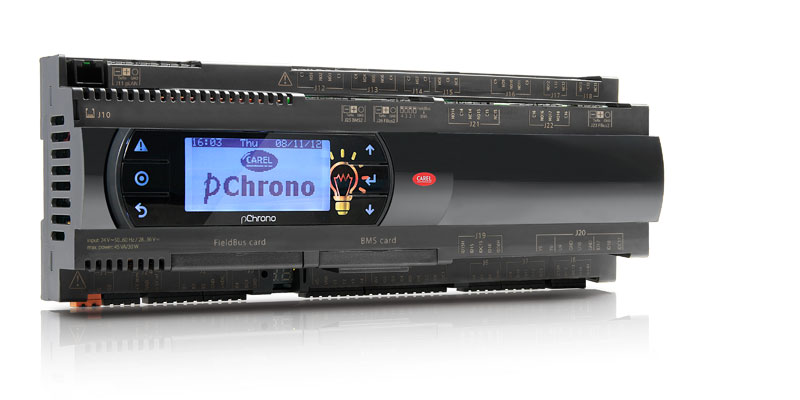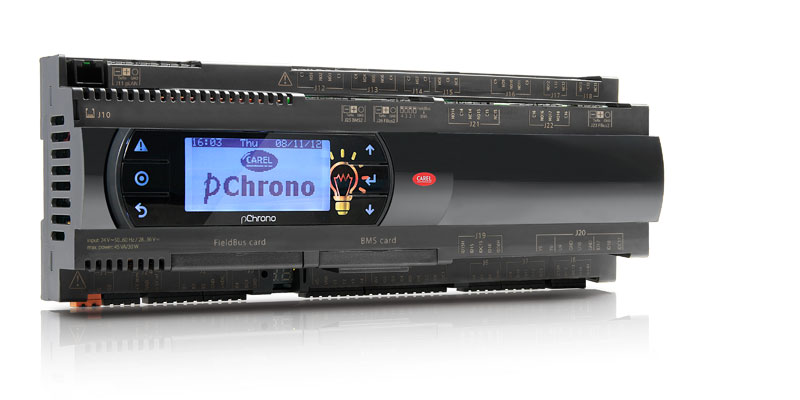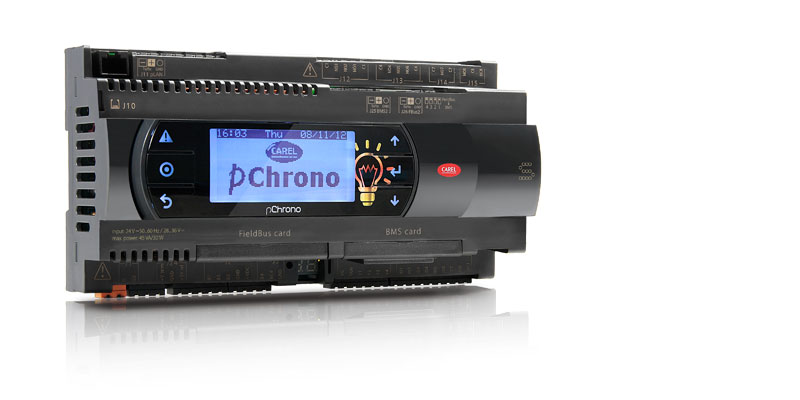 Plus

Adapted to manage lighting points and general loads, from Convenient Store to big supermarket. Flexible and modular thanks to wireless network support on the Carel rTM standard system.
Provided with flexible and dynamic interface on PlantVisorPRO monitoring service, the user has full plant control and its programming is fast and intuitive. The interface between pChrono and the PlantVisorPRO system allows optimizing the ignition of the external lights, for example, on sunrise and sunset information provided by ECO-HVAC plugin (Geo-LIghting)

General characteristics

pChrono is the control system for managing the lighting points and general loads. Other functions provided that can improve the site, are:

pumping units

gripping points wireless management 10 Ampere

wireless reading of Temperature / Humidity / Luminosity probes

Lighting points management also includes managing the lights using luminosity sensors, wireless or wired; the lighting points will be on respecting the time and setpoint configured by the user.


Loads scheduling is supported by a precise punctual scheduler that provides over 15 exceptions to control the loads behaviour even during plant inactivity periods. Thanks to the wireless plug modules (plug 10A) that integrate an energy meter function, is able to read the mono-phase loads consumption that can be enabled from remote.


The main features of pChrono are flexibility and modularity on the field, managing at its maximum configuration, up to 60 loads.
Documentation
Technical
Quick Guide

* Entries are ordered by date

Code
Description
Language
Date *
Release

Code

+040000182

Description

pChrono Solution pour gestion des lumières et des charges électriques

Language

FRE

Date

23/09/2014

Release

1.4

Code

+040000184

Description

pChrono: Solución para la gestión de los puntos de luz y de dispositivos no-food

Language

SPA

Date

23/09/2014

Release

1.4

Code

+040000181

Description

pChrono-User manual: Solution for the management of lights and non-food devices

Language

ENG

Date

23/09/2014

Release

1.4
Commercial
Brochure

* Entries are ordered by date

Code
Description
Language
Date *
Release

Code

+3000101FR

Description

Solution pour Supérettes - Optimisation et gestion complète pour installations de petites dimensions

Language

FRE

Date

18/02/2016

Release

1.1

Code

+3000101ES

Description

Solución para Convenience Stores - Optimización y gestión completa para instalaciones de pequeñas dimensiones

Language

SPA

Date

18/02/2016

Release

1.1

Code

+3000101EN

Description

Solutions for Convenience Stores - Optimisation and complete management of small footprint stores

Language

ENG

Date

18/02/2016

Release

1.1

Code

+3000100EN

Description

Energy saving and complete store management

Language

ENG

Date

18/06/2015

Release

1.0

Code

+3000082EN

Description

Exhibition @ a glance

Language

ENG

Date

09/10/2014

Release

2.0

Code

+3000089ES

Description

pChrono: La solución para la gestión de los puntos de luz

Language

SPA

Date

30/09/2014

Release

1.0

Code

+3000089FR

Description

pChrono: La solution pour la gestion des points lumineux

Language

FRE

Date

30/09/2014

Release

1.0

Code

+3000089EN

Description

pChrono: the lighting management solution

Language

ENG

Date

30/09/2014

Release

1.0

Code

+3000049FR

Description

pChrono: Le partenaire idéal pour la gestion de l'éclairage et des dispositifs NO FOOD (qui ne touchent pas à la régulation du froid)

Language

FRE

Date

01/10/2012

Release

1.0

Code

+3000049ES

Description

pChrono: El partner ideal en la gestión de los puntos de luz y de dispositivos no-food

Language

SPA

Date

01/10/2012

Release

1.0

Code

+3000049EN

Description

pChrono: The ideal partner for managing lighting and non-food devices

Language

ENG

Date

01/10/2012

Release

1.0
Local Information
Local Information

* Entries are ordered by date

Code
Description
Language
Date *
Release

Code

+30U0101US

Description

Brochure: Solutions for Convenience Stores Optimisation and complete management of small footprint stores

Language

ENG

Date

03/07/2015

Release

1.0