IAQ Monitoring System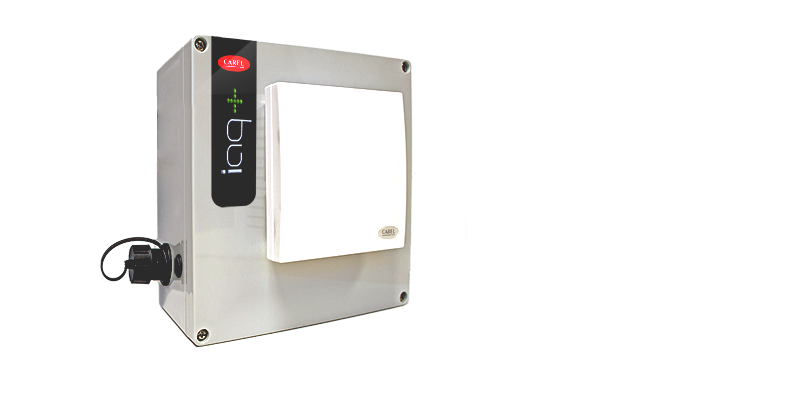 General characteristics

The indoor air quality monitoring system is CAREL's newest solution for continuous monitoring in the most demanding mission critical applications, guaranteeing high air efficiency and quality in your facility to reduce contagions and improve patient outcomes.

The IAQ monitoring system is powerfully outfitted with:

c.pCO controller: provides energy saving algorithms and optimization for fast programming;
sensors: for humidity and temperature monitoring as well as VOC (volatile organic compounds) and CO2 detection;

Plus

The primary key to making improvements is first establishing a baseline of where you are currently. CAREL's IAQ Plus Indoor Air Monitoring System is a simple and easy application that will give you clear and concise data. You will now have the ability to follow key Indoor Air Quality indicators from a centralized location: RH%, CO2 levels, and VOC particle counts. Install this unit for 3 months, 6 months, 12 months and you will have a clear picture on your indoor environment. We recommend monitoring at all times, but especially before and during Flu season. This will give you the ability to make adjustments and improvements. Or, it will confirm the excellent conditions you are currently providing in your environment! With CAREL's IAQ, you can remotely monitor up to 10 different areas through desktop or mobile devices to optimize your routine maintenance schedules.

Download our White Paper: "Air Humidification in Hospitals"
Documentation
Commercial
Compendium

* Entries are ordered by date

Code
Description
Language
Date *
Release

Code

+4000021EN

Description

Air humidification in hospitals and healthcare structures with the objective of saving energy

Language

ENG

Date

21/01/2013

Release

1.0

Success Story

* Entries are ordered by date

Code
Description
Language
Date *
Release

Code

+4000023EN

Description

Humidity control and energy saving for a sustainable hospital

Language

ENG

Date

01/04/2013

Release

1.0

Code

+4000023ES

Description

Control de la humedad y ahorro energético para un hospital sostenible

Language

ENG SPA

Date

01/04/2013

Release

1.0

Code

+4000024EN

Description

Healthier hospital environments with the right humidification

Language

ENG

Date

01/04/2013

Release

1.0
Local Information
Local Information

* Entries are ordered by date

Code
Description
Language
Date *
Release

Code

+04U00015

Description

IAQ+ Tech Sheet

Language

ENG

Date

09/24/2020

Release

1.1

Code

+03U0095EN

Description

iaq+ Indoor Air Quality Manual

Language

ENG

Date

10/22/2020

Release

1.1

Code

+30U0216EN

Description

iaq+ Brochure

Language

ENG

Date

30/10/2020

Release

1.1

Code

+4000023EN

Description

Humidity control and energy saving for a sustainable hospital

Language

ENG

Date

01/04/2013

Release

1.0

Code

+4000021EN

Description

Air humidification in hospitals and healthcare structures with the objective of saving energy

Language

ENG

Date

21/01/2013

Release

1.0