Ultrasonic humidifiers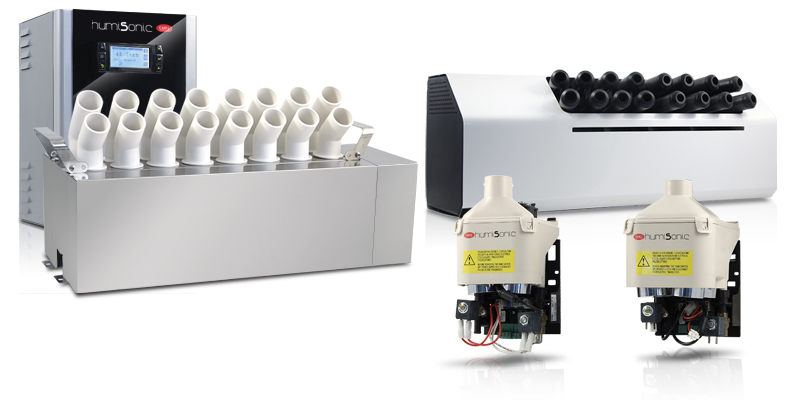 General characteristics

This product is available in CAREL CPQ, the sizing and selection tool that lets you independently find the right CAREL solutions for you, download the related documentation, receive support, and generate quotes and orders.

The new humiSonic range comprises two versions, meeting the needs of all applications: humiSonic compact, small enough to be installed on a fan coil, and humiSonic direct, for room distribution.

Ultrasonic humidifiers feature a small water storage tank and piezoelectric transducers installed at the bottom of the tank. The surface of the transducer vibrates at very high speed (1.65 million times a second), a speed that does not allow the water to move due to its inertial mass. During the negative amplitude of the transducer cycle, a sudden void is created that brings about the production of microscopic bubbles, which are pushed to the surface of the water during the positive amplitude of the cycle. This effect is called cavitation.

During this process, the resulting intersecting sound waves created directly underneath the surface of the water cause very small droplets of water to separate, forming a fine mist of vapour that is immediately absorbed by the flow of air.

This ultrasound technology applied to CAREL air humidification solutions is efficient, reliable and versatile:

efficient, as ultrasonic humidifiers guarantee energy savings of 90% when compared to ordinary steam generators;
reliable, as humiSonic is guaranteed for 10,000 operating hours when running on demineralised water;
versatile, thanks to the size of the droplets produced (average diameter of 5 µm). This fundamental characteristic guarantees very fast absorption of the atomised water in the room or duct, avoiding possible condensation.

Create a free account and access CAREL CPQ now.

Plus

The CAREL solutions developed using the latest ultrasound technology can guarantee numerous benefits in many applications:

energy saving: just 10% of the power consumption of steam humidifiers;
reliability: 10,000 hours of uninterrupted operation guaranteed;
precision: relative humidity control of ±1% on the set point;
absorption efficiency: the droplets, just 1 µm in size, evaporate instantly;
easy installation: in the basic configuration, humiSonic is a plug & play solution;
maximum hygiene: no water recirculation and periodical washing cycles.